So many housing societies developing in Jaipur why should you choose Symphonia? Well, Symphonia is a project by the purple group, so it brings with itself a history of respected and trusted projects. The purple group is a brand name that enjoys the great pride in being one of the most trusted real estate names, their signature properties in Rajasthan are a symbol of splendor and class with culture.
Symphonia project by The Purple Group
So you can rest assured that what will be delivered to you will be of utmost excellence since purple group's philosophy has always stated: "customer first".
Amongst hectic and cramped lifestyle of but developing City like Jaipur, Symphonia jaipur brings you a cozy yet convenient corner for yourself. It is a relief from a packed and densely populated lifestyle.
Symphonia is situated at the heart of Jaipur in Vaishali Nagar. Vaishali Nagar is the upcoming real estate hotspot. With access to hospital, banks, schools, and colleges along with easy commute options to airport and railway station which makes it a prime location for any housing project.
Book luxury Flats in Vaishali Nagar Jaipur
Now let's talk about the various amenities provided to you by Symphonia.
Symphonia provides you 2 3 and 4 BHK flats near Gandhi Path. This location provides you with easy connectivity to all places of value and importance like super-specialty hospitals, banks, schools, and colleges. Symphonia is an iconic destination with luxurious flat laid out spaciously. You can experience Beauty with Comfort At an affordable price.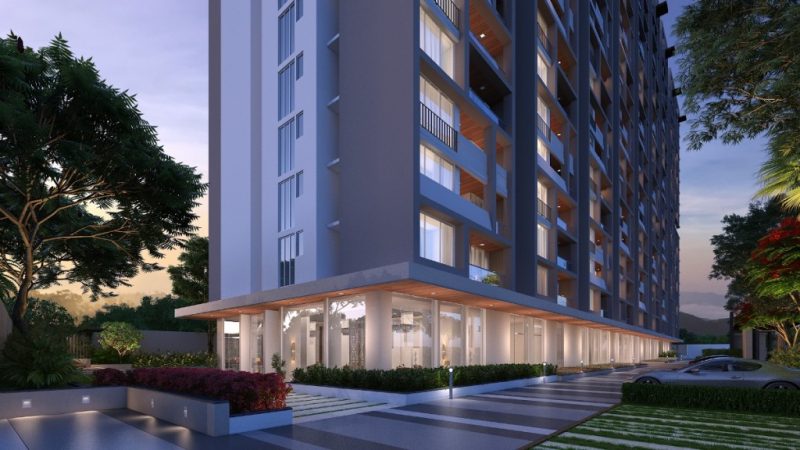 Symphonia is a sought after location for people seeking residence. Due to a wide range of area and units provided by Symphonia, it is currently very popular among house buyers. This is an excellent opportunity for investment. With a starting price of 65 lacs, your new residence at Symphonia will cost you less than its other counterparts.
This project will be completed by 2022. So by booking now, you can on your own home in Prime locations Vaishali  Nagar by 2022.
Some of the basic resources provided to you are:
        24 hours water supply

        Power backup

        Landscape Garden park

        P

aved compound

        Security

        Kids play area
Other amenities:
Power Back up (up to 2 KVA)
Gas Bank
Water cascade
Full Modular Kitchen
AC Pipe Fitting
Italian Vitrified Tiles Flooring
Wooden Flooring in Master Bedroom
Sliding Door (Balcony and Kitchen)
Sliding Windows
In Symphonia how you will get essentials like water, gas, and power supply 24/7 without interruption.
It also has a kid's play area and a park. You can also take a stroll and take care of your health in this common park. The common lot area is paved and protected 24/7 by security guards.
Booking with Symphonia, you get a fully furnished flat that will include modular kitchen, AC pipe fitting, and completely tiled flooring. The whole flat has Italian tile flooring except for the master bedroom. The master bedroom is furnished with polished wooden flooring. Your house will include sliding doors and windows for easy access to the balcony and kitchen.
This way you get most of the immunity in the least of the price. Symphonia is unrivaled housing option for an average 2 3 or 4 BHK flat in affordable price. Although the price is less compared to the facilities, the purple group has not compromised when it comes to quality of delivery. The layout of the project is pleasing to the eye and an art in itself.
The most important advantage of Symphonia over others is that you get to live in a close-knit community without going to the hassle of overpopulated arrangement. This way you can have your own personal space and still be part of the faction
Therefore considering all the pros, Symphonia is your best out of all housing projects in Vaishali Nagar in the same price range.